Yes, TVS-871T used to be one of my favorite NAS when it was released. Since then they released TVS-1283T3 and now TVS-872XT with a Thunderbolt3 (but still works with TB2 using an adapter). These now are real game-changers with built-in NVMe super-fast cache and new DDR4 memory.
Promax is so expensive because they sell also their support. This is what they say: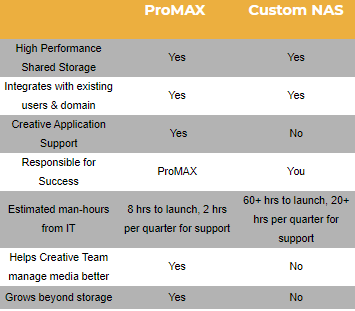 They say that just like Qnap and Synology i7 and Xeon based servers they offer the same hardware, but better support. But I doubt their OS comes close to Qnap and Synology solutions. It is rather basic.
Qnap TS-832XU-4G in comparison with Promax is super basic, but if all you need is a fast data backup it will work just fine. The 10GbE will allow you to fairly quickly copy the project to your editing machines and push it back to the server when you are done with editing.
Choosing tvs-872xu and tes-1885u would be a more serious solution allowing you to actually edit directly from the NAS.
You can use TS-832XU for a remote backup or even any desktop model. Qnap built-in apps will ensure all backups are automated and done regularly. Snapshot technology will even allow you to roll back to previous versions. And de-duplication will save the time to actually back up only things that have changed.
I hope this helps.